True to the motto "camouflage and deception - cheeky, casual and confident" - bracelets HIRSCH John. In this blog post we present the new watch straps from HIRSCH.
It's an effective pattern for concealment, usually in various shades of green and brown, and has been used by the military and in hunting since time immemorial. The pattern is distinctive, and when it's used in nature, its purpose is to manipulate the viewer's eye in such a way that the concealed object or person becomes unrecognisable and indeed almost invisible.
However, in the jungle of a (big) city this popular pattern has exactly the opposite function. It immediately identifies the wearer as a trendsetter.
We are talking about the traditional camouflage pattern which has recently also become available in various unusual colour combinations, looking extremely impressive. One of them, for example, is a blue variation– the current trend colour of the year. After the excitingly flashy colours Ultraviolet (2018) and Living Coral (2019) of previous years, this year's fashionable blue is bringing back some tranquillity into our colour range again.
Both the upper material and the core are made from HIRSCH Premium Caoutchouc (natural rubber) – the best raw material for functional bracelets. The processing of natural rubber is in a continuous state of development, giving rise to new design options. A new technology has been developed in-house, allowing multicoloured processing of the material. A clear-cut edge bet¬ween the different natural rubber colours makes it possible to present the material with different patterns in one layer.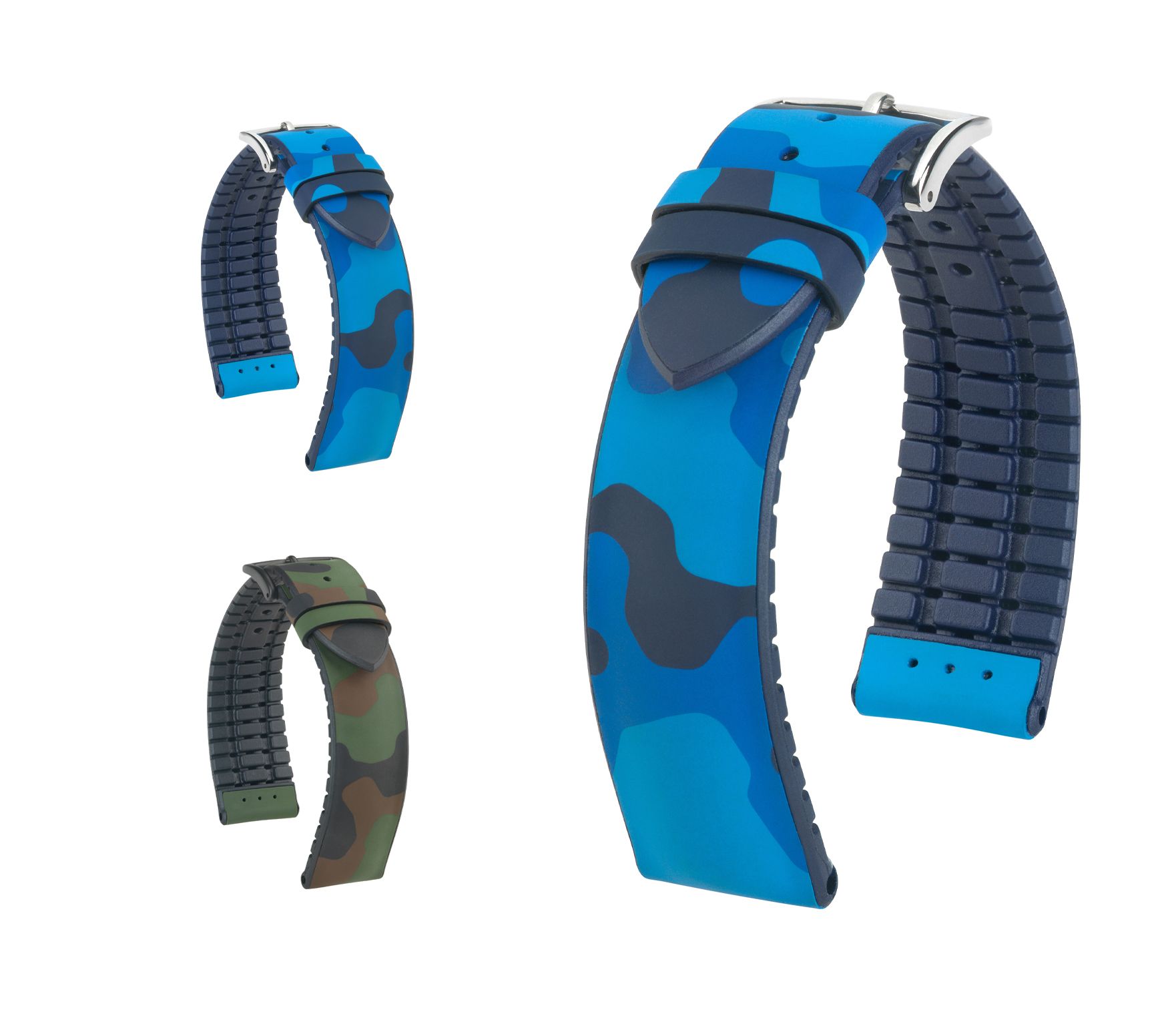 The watch bracelet is made of HIRSCH premium rubber. It is considered the best raw material for functional bracelets. It is absolutely waterproof, dimensionally stable and tear-resistant. The premium material also ensures resistance to external influences such as UV light, chemicals and extreme heat and cold. It is also ideally suited for sensitive skin types.
The HIRSCH John variant is the sporty classic version. The embedded insertion loop as well as the high-quality stainless steel buckle in HIRSCH Classic design complete the watch bracelet.
Getting interested? Then "Dress Up Your Watch!"
Your WACCEX-Team.